The Webcams
Sherilton Valley is located north of Descanso, 40 miles east of San Diego California. Our parcel includes pastures, barns, oaks and a creek. The landscape could be described as, "natural" and we have made a concerted effort to restore the property to its native habitat. The neighborhood is a close knit community in a rural mountain valley surrounded by the National Forest. It's a quiet place
Of several cameras, four are posting to this website and they update every 5 to 15 minutes in the screens below.
For the full page view, click on the image.
I'm on satellite internet and live streaming is out of the question. As it is, this whole operation is one big "house-of-cards" ready to tumble at any second. :-)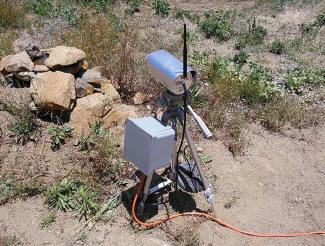 Outdoor webcams had their "heyday" years ago when uploading photos to the internet was still a novelty. Other than traffic cams, these days public webcams mostly post "weather views" which circulate on weather sites. Primarily, that's what this page is for though I always try to include wildlife hotspots when I can (especially at night). All cameras are set to detect motion and any interesting videos will be posted on the individual page view. The internet is flakey out here and during storms my satellite internet connection is usually the first to go. This is an experiment.
Surveillance technology and wireless performance have improved to the point where I'm able to place live cameras in all sorts of places that were off limits before. As lazy as it makes me sound, I can now sit at my desk and watch wildlife 24 hrs a day. Crime is never a problem in Sherilton Valley and my interest is in capturing moments of nature, not looking for "bad guys". On the other hand, when ever someone visits they get their picture taken so I thought it might be polite to put out a couple of signs.