_____
RV Trips
_____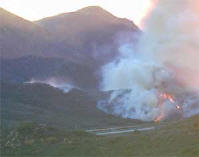 The Year - Everyone has had years that stand out in their memory. For me, they were years with life changing events and they became points of reference when looking back. In 1968 I graduated from high school and that spring, Robert Kennedy was assassinated. I spent the summer of 73 hitch hiking around Europe, graduated from college in 74, in 1980 I began my current job and in 1992 my mother died.

2003 was one of those years. The death of my father along with the Cedar Fire in Southern California guarantees that year as a major waypoint in my life.

In October, after a two week backpacking trip in Sequoia, Catherine and I returned home on Saturday October 25. It had been a rough trip. We were pestered by bears the entire time so I was looking forward to being home and getting some rest. At 3 a.m. the next morning, Catherine looked out the window and noticed an orange glow to the Northwest. We live in brush fire country and we've seen it before. By that night the flames were too close for comfort and we abandoned our house. Catherine took her car and followed me in my pickup which was pulling a utility trailer loaded with two peacocks and other assorted junk. Smokey the cat rode in the front seat with me. We drove to the Descanso Town Hall and slept in our vehicles until 2 a.m. when the police came through and evacuated the entire town. From there we headed east to Pine Valley where we slept alongside the road with hundreds of other evacuees. We needed to go west into San Diego but all freeways in that direction were closed. Finally at 10 a.m. the next morning, Interstate 8 was briefly opened and we headed west to stay at my fathers house. Apparently the highway patrol had miscalculated and the fire flared up as we headed out. They closed the highway again though, too late for us. We ended up driving through blinding smoke with flames on both sides. I could feel the heat through the truck windows. A close call but we made it.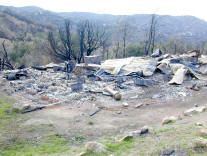 The Damage - The B&H Ranch consisted of 20 acres, a primary residence, 2 secondary houses and 3 barns. We were lucky in that the house we sleep in and 1 barn survived. Unfortunately, because our house is so small, we had stored most of our possessions in the other buildings which burned. Because of the single road that enters our valley, fire fighters would not come in and the fire spread without resistance. Four of our neighbors lost their homes and the fact that ours survived is still a mystery. The fire came right up to the front door, circled the house and continued up the hill in the back. All vegetation on the 20 acres burned along with out buildings, barns, vehicles and well houses.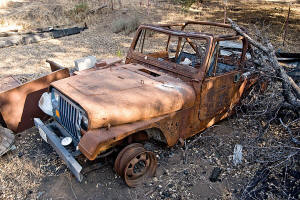 Looking Up - Today, t

hings are looking up in the Southern California burn areas. We've had some rain and the landscape is turning from black to green. Wild flowers have sprouted and grass is growing. Since October, after being scorched by the burning undergrowth, the evergreen oaks have stayed completely brown. Now they've started to recover and leaves are sprouting on the more protected higher branches. On the other hand, the shorter scrub oaks faired less well and I expect they will be reminding us for years about October's fire storm. Even they have begun to sprout new growth at ground level and in a few seasons their burned branches should be overgrown. It was a depressing six months but spring came and nature is recovering with enthusiasm.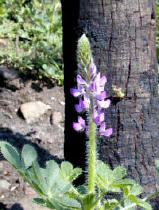 Before this valley was subdivided, it was a seasonal campground for the Kumeyaay Indians, then it became a ranch and finally it was broken up into 10 acre parcels. We were lucky enough to be able to purchase two joining properties and we've been working hard at returning them to their former native environment. The previous owners were horse people and the property was strewn with rotting corals, abandoned chicken coops and rusty barbed wire strung haphazardly from tree to tree. Old truck tires, car parts and abandoned appliances dot the landscape.

In a peculiar sort of way, the fire did us a big favor. Burned tires turn to little clumps of manageable steel wires that easily go into the dumpster. The denuded under brush has allowed me to wander the wooded areas with a bolt cutter and I've been gathering up miles of barbed wire. The frames of the chicken coops have burned away and I've been able to easily roll up the left over chicken wire. I've been building trails in areas that were previously inaccessible and my goal is to create a nature walk where we can hike at least a short distance without seeing any signs of human habitation. It's fun and I'm actually having a good time. You can see how we're planning on fighting the next wildfire here.

Thanks for visiting our Website. Based on our tracking log, these are currently our popular articles.
The Stealth Cam The Turkeys The Tools The Pests
Since 1999